Rana Ahmad, (Author) women's rights activist and Speaker ,Refugee worker , Atheist, fled from Saudi Arabia in 2015 and came via Turkey, Greece and the Balkan route to Germany, where she now lives. She was given support for her dangerous escape by the Richard Dawkins Foundation , Central Council of Ex-Muslims, Atheist Republic and Faith to Faithless, and belongs to the Arab Atheist Community. founded the Atheist Refugee Relief e.V.in March 2017,in Germany.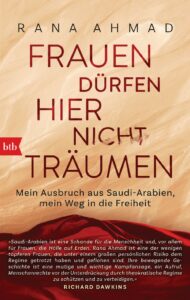 Women Aren't Allowed to Dream Here
Interested in helping or have a question? Please leave a message below.
rana.ahmad@atheist-refugees.com