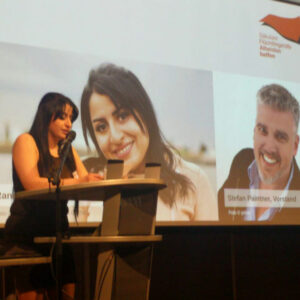 Rana Ahmad is women's rights activist and ex-Muslim born in Riyadh, Saudi Arabia, who fled to Germany in 2015, where she currently resides. Her flight, assisted by Atheist Republic and Faith to Faithless, was partially documented in the Vice News documentary Leaving Islam: Rescuing Ex-Muslims (2017) and later in her 2018 German-language autobiography Frauen dürfen hier nicht träumen ('Women Aren't Allowed to Dream Here), also translated into French.In 2018, Ahmad founded the Cologne-based Atheist Refugee Relief with the goal of providing 'practical assistance to refugees without religion and to improve their living conditions through political work.
In search for answers to her questions, she turned to the internet, discovering philosophy (which Rana says is banned in Saudi Arabia) and atheism at the age of 25. This happened in 2011, when she ran into a tweet from someone using the Twitter handle "Arab Atheist", which she had to Google Translate to understand.Shocked, Rana contacted "Arab Atheist", who recommended her multiple documentaries (for example, on the theory of evolution and the Big Bang) and books from Richard Dawkins, Friedrich Nietzsche, Voltaire and Charles Darwin translated to Arabic. "I cried when I discovered all the things I was never taught, what they withheld from me," Ahmad said in a 2016 interview.  After about a year, she concluded she could no longer believe, because of all the contradictions in the Quran. It caused her even greater fear and sorrow to realise that atheism and apostasy in Saudi Arabia were punishable by death, and she probably had to leave the country and everything she had behind, in order to survive. She hid her changing views from her family and continued praying five times a day, while she searched for help online from various groups such as Faith to Faithless,Central Council of Ex-Muslims, Ex-Muslims of North America and Atheist Republic. For five years, she lived as a closeted atheist in Saudi Arabia, terrified that her family would kill her or the state would execute her if her nonbelief were discovered.
Upon arrival in Germany in November 2015, Ahmad spent a year in a refugee camp located about an hour from Cologne, before she was assigned her own house. On 31 December 2015, the Vice News camera crew visited her again in Cologne. She spent much of her first year reading (physics) books, intending to study nuclear physics  She felt threatened by Muslim refugees in the camp, however, many of whom thought of apostasy as a deadly crime. By chance, she discovered by writing to Maryam Namazie that the Central Council of Ex-Muslims was coincidentally headquartered in Cologne as well, and after contacting Mina Ahadi, the Council and the Giordano Bruno Foundation were able to help her find a house for herself.
At the age of 30, after 20 years, she was finally able to buy and ride a bike again in Germany, which she regarded as an important restoration of her freedom. A photo of her holding her new bike in Cologne was used for an Atheist Refugee Relief brochure.
She stated in March 2018 that "I love Germany, I love my free life in Germany. She wanted to adapt quickly, obtain German citizenship, improve her German language skills and support the activities of the Central Council of Ex-Muslims. Since late 2018, Ahmad has been studying physics in Cologne.
With the help of the Central Council of Ex-Muslims and the Giordano Bruno Foundation, Ahmad founded the Atheist Refugee Relief e.V. in March 2017, and officially presented at the 10th anniversary of the Council on 17 November 2017. Its goal is 'to support refugees who are discriminated against or even threatened with their very lives because of their atheistic conviction or their critical attitude towards religion. The Relief's volunteers are working on a daily basis to protect especially female atheist refugees – as they are targeted more frequently and viciously – from further persecution (for example, 'assaults, exclusion, threats and violence') in Germany. As of December 2018, it has helped 37 recognised non religious refugees since November 2017, but the demand was rising quickly. According to Dittmar Steiner, the Atheist Refugee Relief received 'two to three requests [for help] a week' when it started, which had increased to 'between seven and nine a day' a year later.
On 15 January 2018, her book Frauen dürfen hier nicht träumen: Mein Ausbruch aus Saudi-Arabien, mein Weg in die Freiheit ('Women Aren't Allowed to Dream Here: My Escape from Saudi Arabia and My Path to Freedom') was published in Germany. A French translation was published in Paris in October 2018 under the name Ici, les femmes ne rêvent pas : Récit d'une évasion ('Here, Women Do Not Dream: Story of an Escape'). According to Ahmad, "We, women, we can change our lives, be free. We think we are weak, but that is wrong; we are strong, and this book proves it.